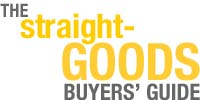 The economy sucks. While politicians have taken a big hate-on for anything that's remotely fun-to-drive. So it's more important than ever for those who love to drive to make the right decision on their next new ride.
That's where The Straight-Goods comes in.
Instead of a traditional annual guide, The Goods is a dynamic buyer's guide for driving enthusiasts: if we've driven it, and we think it's worthy, it makes the cut. As before, of the hundreds of new cars on sale, only 36 of the most fun-to-drive rides make the cut, so this is a pretty exclusive list.
Over the next few weeks, I'll be adding six examples each in six driver-oriented categories: Hot Hatches, Sports Coupes, Sports Sedans, Sports Cars, Grand Touring, and Q-Ships. (See if any of your faves received a perfect 6/6 pistons.)
Regardless of your budget, any of these cars will bring a smile to your face on any given Sunday morning coffee run.
Enjoy.

– John LeBlanc, Publisher, straight-six.com