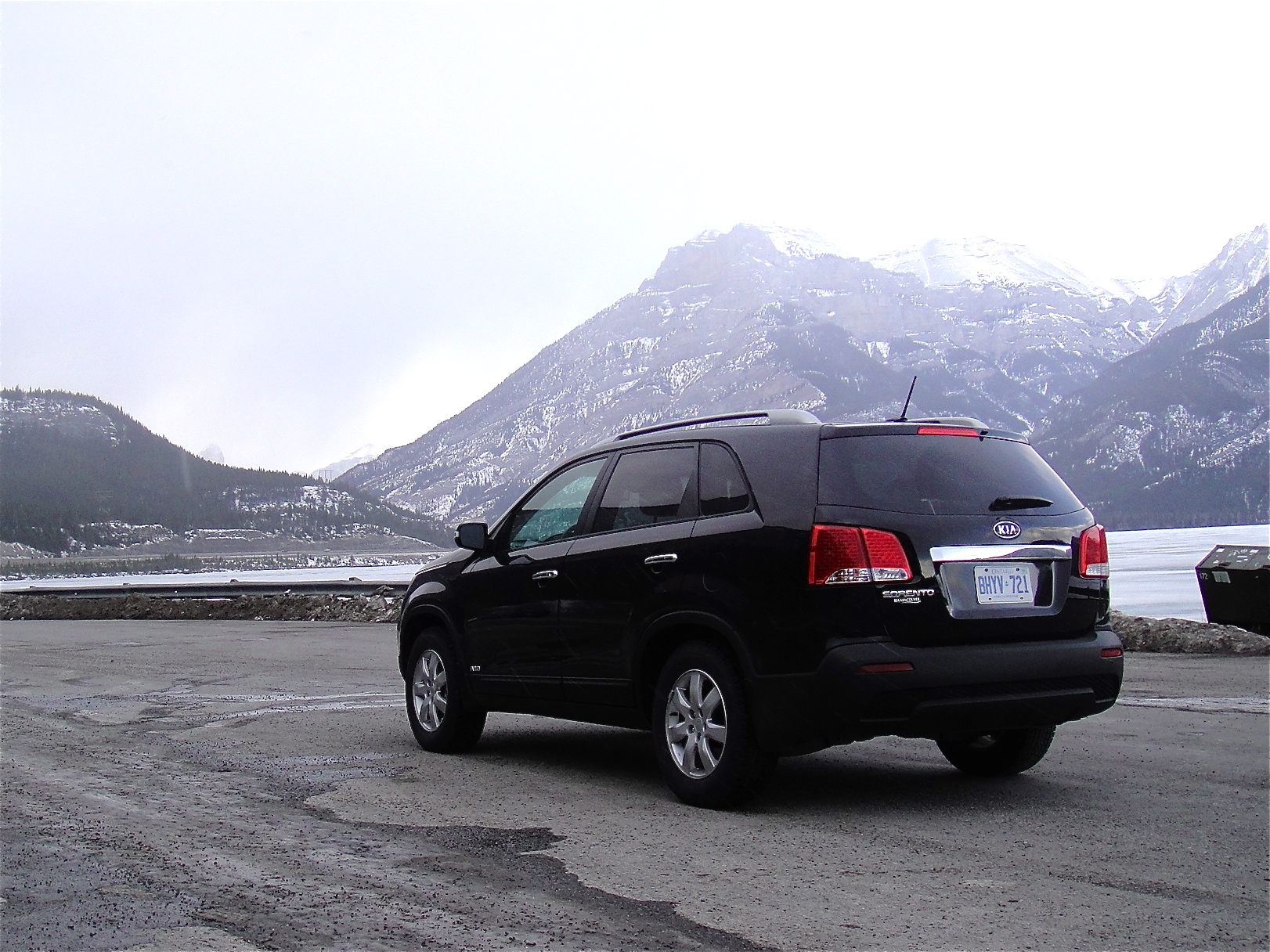 A family road trip in the Canadian Rockies explores the capabilities of Kia's Sorento in my Toronto Star
Wheels
piece here, or after the jump.
By John LeBlanc
CANMORE, ALTA. — If you want variety in your driving conditions, try a road trip in the Canadian Rockies any time between November and June. Snow, rain, freezing rain — any and all could and did happen during a recent family road trip in a borrowed 2012 Kia Sorento.
More than likely, you're familiar with the Sorento. Kia's been selling it in Canada since 2002. For the 2011 model year, the second-generation model became more relevant in the marketplace, moving from its predecessor's body-on-frame chassis to a more modern unibody chassis. A bit larger than its sportier-looking Sportage sibling, the Sorento can be had with front- or all-wheel-drive and seats for five- or up-to-seven passengers. Base LX Sorentos start at $26,595, which gets buyers five seats for passengers, four cylinders in its engine, and six gears in the automatic transmission. My mid-level $29,195 LX V6 tester came with a six-cylinder. Optional all-wheel-drive and third-row seating brought the total to $32,295. Similar V6 AWD seven-passenger compact crossovers include the $32,320 Dodge Journey R/T, $29,598 Mitsubishi Outlander LS AWD, and $31,595 Toyota RAV4 V6 AWD.
Our hopping-off point for our four-day Rocky Mountain road trip was the eastern edge of the range in Calgary. From there, we spent our time driving in and around the former mining town of Canmore, with day trips to Banff, Lake Louise, and a longer loop that passed through the neighbouring B.C. towns of Golden and Edgwater via the Kootenay National Park. The Sorento's extra interior room over the cosier Sportage was obvious after only a few hours on the Trans Canada heading west out of Calgary. Especially roomy was the second-row. But, admittedly — like its rivals — the Kia's pair of third-row seats are to be used only occasionally for adults or pre-pubescent children. The Sorento's driving position feels more like a car than an SUV — you don't sit too tall in the saddle. And although our LX didn't come with the options like a navigation system, goodies like heated front seats, Bluetooth and a USB port are standard. I also liked the simple and easy-to-use design of its dash and driver controls — nothing funky, or too cute.
Even with three on board and a week's worth of luggage and winter sports paraphernalia, the Sorento and its V6 never laboured on some of the steeper Rocky Mountain road grades. With more power and torque than the Dodge, Mitsu or Toyota competition, the Kia's 276 hp 3.5-litre six and the autobox always felt smooth and capable. On top of the extra oomph, perhaps the best argument in opting for six instead of four cylinders in a Sorento is fuel economy. While AWD models of the 191 hp 2.4-litre four are rated at 10.1L/100 km city and 7.1L highway, the V6/AWD combo is close behind, scoring 11.5L and 8.2L, respectively — right there with the competition.
Instead of a trendy electric setup, Kia has stuck with a traditional hydraulic steering system — and the decision was a good one. For this class of vehicle, the Sorento LX V6 offers accurate and fulsome reactions from its tiller. Kia engineers deserve kudos for the Sorento's sedan-like road manners, too. It's no sports compact, but the Kia resists rolling in corners more than many of its rivals, without any untoward motions when cornering hard.
One way we ignored the unpredictable Rocky Mountain weather was to take a dip in the Upper Hot Springs, just outside of the town of Banff. With a water temperature of 38 degrees Celsius, we relaxed in the outdoor pool and caught snowflakes on our tongues. Equally comfortable was the Sorento. Its suspension struck a nice balance between too firm and too soft. The front seats offered plenty of support, while mechanical road noise has been kept to a minimum.
Parked next to one of the huge, six-wheeled, Brewster Ice Explorers — which take passengers onto the surface of the Athabasca Glacier north on the way to Jasper — our Kia crossover looked a little diminutive. But compared to other crossover AWD systems, the Sorento's setup offers some unique features. While the last Sorento was a rear-wheel-drive-first arrangement, the new Sorento powers its front wheels before reverting to AWD as slippage occurs. If not as rugged as the older model, the 2012 Sorento's AWD system features Hill Ascent Control (which automatically controls the speed of the vehicle on steep downgrades, like an icy driveway), and a locking centre differential to improve low-speed traction in off-road situations.
Our final day in the Sorento LX was our longest: over five hours along a route that looped us from Canmore to Golden, then back to Calgary. Road conditions were toggling between rain, wet snow and some icy patches as we drove to higher elevations. The time was well spent in summarizing Kia's latest crossover.
The Korean automaker's decision not to copy the class leaders seems to have paid off. The new Sorento has lots of room and power, delivers plenty of features, drives well for its intended audience, yet doesn't sacrifice fuel economy or price in the process.
2012 Kia Sorento LX-V6 AWD
PRICE: base/as tested,
$29,195/$32,295
ENGINE: 3.5-litre V6
POWER/TORQUE:
276 hp, 248 lb.-ft.
TRANSMISSION: Six-speed automatic
FUEL ECONOMY: L/100km: 11.5 L city, 8.2 L highway; 11.8 as tested
COMPETITION: Dodge Journey, Mitsubishi Outlander, Toyota RAV4
WHAT'S BEST: Quiet, car-like road manners; lots of standard features; sophisticated AWD; relatively fuel-efficient V6.
WHAT'S WORST: Third-row strictly for short-run hops only.
Comments